Back to Blog
Industrial IoT:
Definition, Use Cases, Technology
What is Industrial IoT?
The Industrial Internet of Things is a subdomain of the IoT technology that employs connected devices, sensors, cloud, and modern data analytics to achieve a greater level of automation on a factory floor. By enabling factory-wide connectivity between thousands of devices, Industrial IoT ushers in a new paradigm of autonomous production facilities, also known as Industry 4.0.
On its basic level, Industrial IoT refers to real-time monitoring of production data gathered by sensors throughout the entire manufacturing process. But unlike the previous generation of industrial control systems, the new IoT-based solutions are much more flexible, easier to deploy and manage, and rely on more adaptable cloud computing infrastructures. That's why companies in the manufacturing sector apply Industrial IoT for a variety of needs, whether alongside their existing systems or from scratch, without having to completely overhaul their normal operations.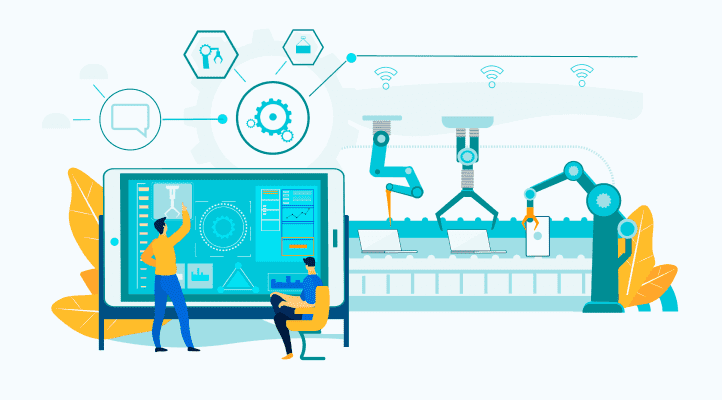 This flexibility and streamlined integration between Industrial IoT and other cloud-based technologies has also brought to life numerous new use cases that can benefit industrial companies. Some of those use cases are already mainstream, such as predictive maintenance or customer experience analytics, while others are growing to become new staples, such as edge analytics and computer vision. Approaching Industrial IoT from the right angle is how companies can achieve faster ROI at less upfront expenses. So, let's consider some of the most popular use cases for these technologies out there.
Popular Use Cases for Industrial IoT
Industrial IoT is the key driver behind the strategic Industry 4.0 initiative, which is being massively implemented worldwide. The key principle of Industry 4.0 is transforming hard-wired machines into smart cyber-physical systems capable of interoperating with each other, managing real-time data, and reprogramming themselves on-the-fly.
This smart factory transformation increases companies' revenues through improved asset utilization and introduction of new, smarter products; it reduces their operational costs, improves customer satisfaction and worker safety; and, last but not least, it enables more efficient energy and resource utilization.
Maximized systems uptime
Let's take a closer look at the key Industrial IoT use cases starting with the maximized uptime. When production processes are interrupted, companies lose money. Even if it's only minutes per month per machine, this adds up significantly in the context of a large fleet of industrial machinery. For some systems, like a power plant, a military system, or an oil refinery a system failure is not an option at all.
The Industrial IoT can prevent industrial systems from unexpectedly shutting down by detecting the earliest signs of malfunction and taking timely actions. Installing IoT sensors into industrial systems allows operators to know what's going on with the equipment in near real-time, and with high accuracy. Connected through an Industrial IoT platform like Kaa, these sensors provide factory staff with in-detail reporting over the equipment status, performance, security, and so on.
Conducting regular equipment health check-ups gets easier too, since a big chunk of work can be done remotely and with greater accuracy.
When we can predict problems we can prevent systems going down. With Industrial IoT, the status of every single machine is transparent.
Efficient field service
Field service operations are the ones to experience the most dramatic quality impact from embracing IoT. The telemetry data collected from equipment is a rich source of actionable information for technicians. Based on the analysis of this telemetry data, field ops may make an informed decision whether a piece of equipment requires any service. That is a major improvement over the old modus operandi of massive overservice and excessive truck rolls.
Even for cases where the service is actually required, efficiency is largely improved by more precise and expedited failure root cause analysis powered by sensor data and electronic service history records. This results in better customer service, satisfaction, and loyalty.
However, with IoT you no longer have to wait for failure to occur. In many cases, proper analysis of data feeds coming from equipment can lead to indications of possible future malfunctions, and proper preemptive maintenance actions can remedy the incident even before it happens.
Informed warranty extension and claim validation
Businesses that provide warranty-based maintenance services on the equipment they sell or lease know very well that their customers often take advantage of the warranty covered period for their equipment by pushing it to extremes. Some companies report warranty services cost up to several percent of their annual revenue, which can be huge. They also have a hard time validating warranty claims because they lack vital equipment operational data.
Now, Industrial IoT solutions can dramatically improve their success rate in correctly validating claims and can extend warranties for periods that are safe based on real-life data.
With Industrial IoT, data from sensors or devices embedded into operational equipment can be collected and then analyzed to detect potential equipment misuse. Even without physical inspections, sensor data may be sufficient to validate warranty claims, suggest a safe warranty extension period, and estimate the price that would cover potential extended warranty costs.
Optimized asset utilization
According to a World Economic Forum's Industrial Internet Survey, optimizing asset utilization ranked as the top reason to adopt IIoT technology, with 79% of respondents citing optimizing asset utilization as "extremely important" or "very important" for near-term adoption of industrial IoT technologies.
By connecting equipment into the IoT cluster, it is possible to automate performance analytics and calculate key performance indicators in real-time. Small- to medium-sized manufacturers can afford such analytics too, reducing the gap between them and the high-profile market leaders in terms of production performance.
Using historical data, production planning also becomes more accurate and fast. Additional cost savings can come from better energy practices, and managing energy usage for peak, off-peak and zero service periods.
Real-time alerts
Real-time alerts are another handy tool to keep track of what is going on with systems and services. These alerts can help you react instantly if abnormalities arise, and provide peace of mind by indicating that everything operates as it should. Because machines are able to pinpoint and communicate detected issues, engineers spend less time locating them, and more time on troubleshooting when necessary.
Consider an example of a machine going down and sending an automatic alert to the service manager. Based on the policies set and who is subscribing to the feed, that manager can get an instant alert on his or her mobile devices including a map that shows precisely where the machine is located. This is a tremendous benefit, particularly at large locations. An alert can also feed into a "ticketing" system so that when the manager fixes the problem, he or she can "close" the ticket.
It gets even better with control automation, in which case an alert can trigger an incident handling scenario that will immediately and automatically mitigate the failure and prevent further damage.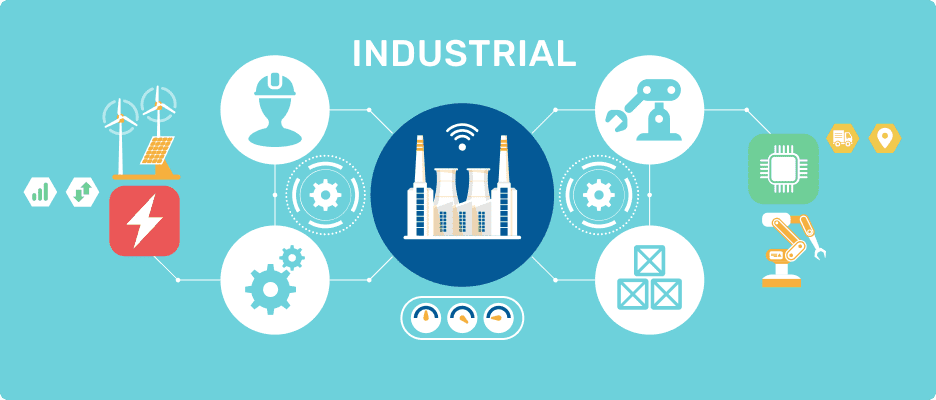 Usage-driven product evolution
Data collected from production systems is of great value to product and innovation teams, because it allows them to understand equipment behavior and performance outside of the lab, and also identify common usage patterns. This knowledge is vital for improving existing products and creating new, more competitive ones.
By looking into the equipment operation through the eyes of a user, not only can you offer better functionality, but also superior user experience.
Over-the-air software updates
In the world of smartphones, users and organizations often take over the air upgrades for granted. And yet, the vast majority of industrial equipment still runs on software dating back to decades ago. In many machines there are no software upgrade capabilities, while in others, software upgrades are prohibitively laborious and expensive. Implementing over-the-air software upgrades into industrial equipment is now easily achieved with IoT, and gives vendors a distinct competitive edge.
OTA enables almost labour-free and timely rollout of software upgrades to connected equipment, validates installation, lets you keep track of the updates history, and maximizes lifetime equipment value. Imagine the manual labor cost savings realized when applying updates across a fleet of thousands of machines.
Programmable automation
Making industrial machinery more programmable and adaptable is a key principle of Industry 4.0 and Industrial IoT. This feature makes each machine much more versatile and productive. A smart, connected factory floor enables production of a greater range of goods faster and more reliably, and also enables introduction of new products in a fraction of a time it used to take. Using embedded computing, every part of the factory floor can be flexibly manipulated through applications, cloud services, and plugins. Physical, "hardwired" configurations that take days or weeks to set up will become the thing of the past.
These applications are already utilized in industrial robots, but with large-scale IoT implementation, production facilities will be much more programmable and adaptable to change between different production modes.
Enhanced customer satisfaction
When we consider the usability factor, IoT-enabled equipment wins hands-down because it provides users with intuitive software interfaces, which can be used through a Web browser, on a tablet, or a smartphone. Rich capabilities of these applications ensure the most productive and comfortable user experience.
IoT-enabled equipment provides users with greater flexibility, allowing them to apply a variety of customizations over IoT-powered equipment - such as widgets, workflows, notifications, and charts.
Importantly, a consistent user experience reduces new employee learning curves, improves productivity, and safeguards against heedless errors. With the constantly increasing complexity of industrial equipment, it is crucial to keep user interfaces as intuitive as possible.
Enhanced worker safety
According to the International Labor Organization, somewhere in the world, a worker dies every 15 seconds from either a workplace accident or from an illness or disease contracted at their workplace. In the same 15 seconds, 153 workers will have a work related accident. That's a staggering 2.3 million deaths and 317 million accidents every year.
That's where Industrial IoT solutions can make a big difference. Detecting malfunctions, fire, and toxic leaks early can prevent a large portion of factory accidents. IoT can also be used for timely, contextual notifications and smart safety prompts to minimize risks of negligence. Relatively easy to implement, these IoT solutions are now the easiest way to make our working environments much safer.
Perimeter security and access control
Other crucial use cases that can be enabled with IoT are perimeter security and internal physical access control. Unauthorized access to production facilities bears a high degree of possible harm both to production and equipment, and also can be hazardous to an intruder. So, the first step is to prevent external intrusion by using sensor-laden perimeter security. Then, implement internal security zoning using sensors and real-time monitoring. With IoT, indoor positioning, and authentication technologies, it is possible to ensure proper authorization of personnel accessing specific areas within a facility. Further, violation of access rules can immediately trigger an alarm, resulting in appropriate security measures.
Smart lighting and smart metering
Finally, let's address the theme of sustainable production and efficient utilization of energy. Smart lighting is a major breakthrough in terms of saving energy for industrial companies. In some cases it allows cutting energy spending by half. Accurate measurement of resource utilization by applying smart meters is the best way to address cost optimization and sustainability problems. Applying IoT sensors and smart meters, you can also ensure that your production meets all emission metrics and prevent unintended or accidental pollution of the environment.
Using Kaa for Industrial IoT
As a complex mission-critical technology, Industrial IoT has distinct properties and requirements that distinguish it from consumer IoT, including the unique types of connected devices, network technologies, quality of service requirements, and strict needs of command and control. In order to streamline development of such solutions, companies may take advantage of IoT platforms, which provide a majority of popular IoT features out of the box.
Kaa is an enterprise IoT platform that has been widely utilized for Industrial IoT use cases to connect sensors, devices, gateways, and applications. The platform is hardware and transport-agnostic, which enables it to easily integrate with a broad variety of sensors, controllers, machines and device gateways in order to readily support any existing industrial infrastructure. It also ensures end-to-end IoT development experience by addressing every part of IoT functionality, from real-time device telemetry monitoring to flexible visualization widgets and data analytics.
To learn about what you can do with Kaa for Industrial IoT projects, please refer to our Industrial IoT use case or contact us.