Back to Blog
Top Identity and Access Management solutions for 2023
If you're looking for the right Identity and Access Management solution for your business, there are several recommended steps to take before your final decision. Modern IAM market is varied and very much boils down to the security needs in your organization. Aside from checking the functionality, reviews, and real product capacity, we recommend listing your realistic infrastructure demands alongside future possible scaling.
Oftentimes, solutions from market giants include rich functionality, but it isn't possible to separate excess features from the package you're paying for. This is especially vital for startups and expanding companies with constrained budgets and multiple investment directions.
In this article, we're uncovering top 10 solutions for enterprise Identity and Access Management that would fit various industry verticals and company sizes. From market leaders to emerging solutions, we have summarized key features and capabilities of the modern platforms, their difference, and primary focus in development.
This article can help project managers, DevOps, DevSecOps engineers, and system administrators to learn about the services best suited for their needs and save time on market research.
What is Identity and Access Management
Identity and Access Management (IAM) is a system for user ID control and management under the umbrella of an organization or a company. Digital, or electronic identity of a user in an IAM system can be stored in various formats and used to enable access of the user to work in the system or access it externally. User identities can be united by access policy groups to facilitate business processes critical for the organizations.
Containing a range of personal data, digital IDs can be therefore applied for flexible user access management across multiple apps or solutions, provided a secure authorization system is in place. Handling such IDs, access and identity management systems ensure that users can see and operate only necessary data and get approved configuration options only.
Some of these identity and access management systems include multi-factor authentication (encompassing two-factor authentication), single sign-on (SSO), privileged access management, and authentication by biometric data.
Customer identity and access management systems can also store user data in profiles or profile groups, as well as allow users to edit, transfer, download, or alter this information securely. In some way, IAM systems functionality can be compared with an expanded CRM where all 'clients' need to login into the system.
Deployment options of identity and access management solutions depend on the vendor; most of the IAM systems work in the cloud, but many of them can also be deployed on-premises, function in hybrid environments, or be available by a cloud-based subscription.
Main IAM capabilities: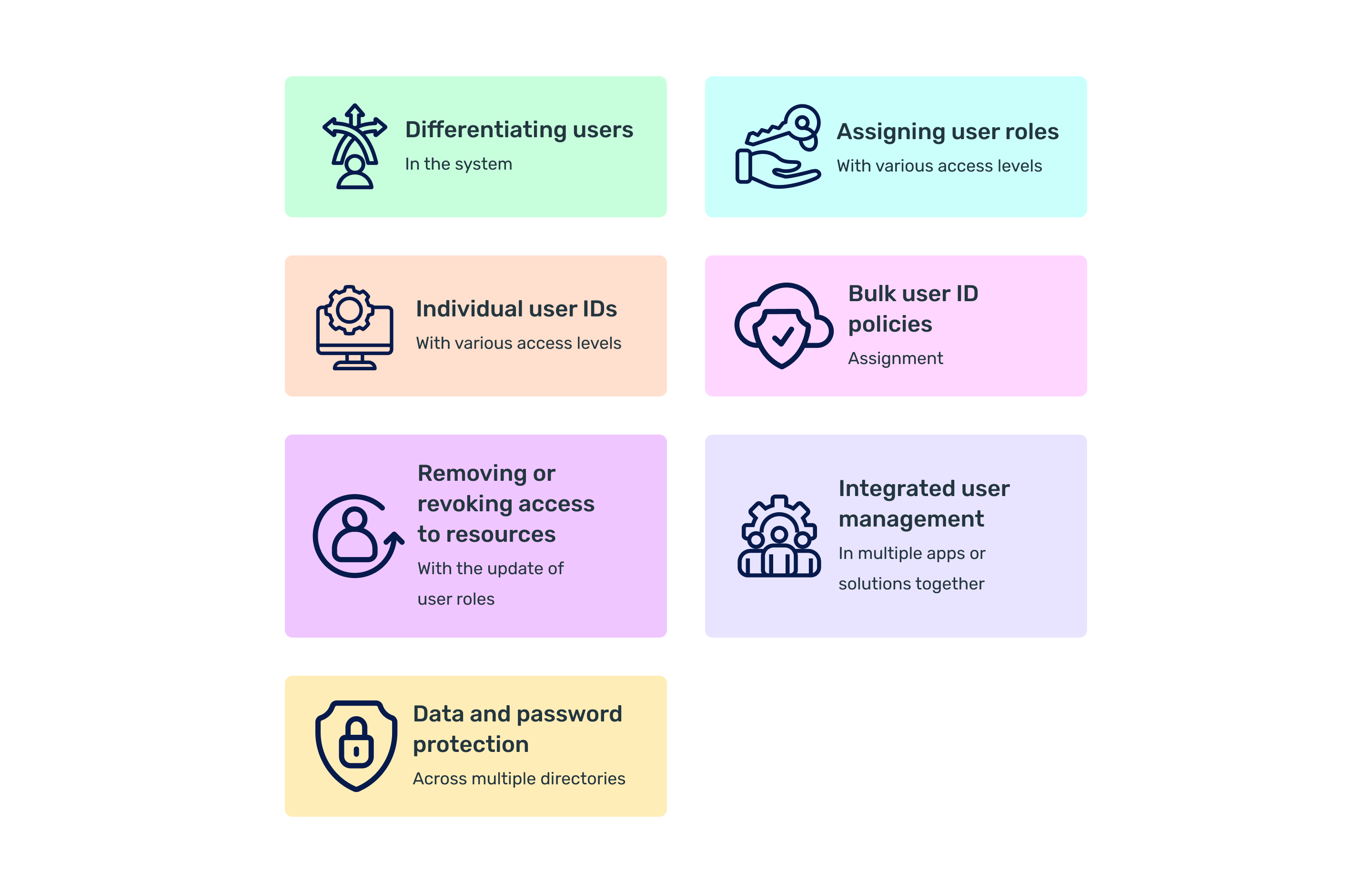 differentiating users in the system;
assigning user roles with various access levels;
setup and configuration of individual user IDs;
bulk user ID policies;
removing or revoking access to resources with the update of user roles;
integrated user management across apps or solutions;
data and password protection.
Corporate Identity and Access Management vendors
While it's commonly believed that the biggest IAM market players are the best choice for very large organizations, the increasing needs for the identity and access management frameworks also show the demand for newer, more scalable solutions.
Among core market vendors, Gartner Identity and Access Management Magic Quadrant 2022 mentions Okta, Microsoft, ForgeRock, PingIdentity, OneLogin, CyberArk, Oracle, IBM, and MicroFocus. We would also like to mention AWS, Auth0, and Salesforce alongside these enterprises as per their market influence and product functionality scale.
Also we'd like to mention some innovative and emerging solutions such as iamcore, and other notable vendors, including SecureAuth, miniOrange, QuickLaunch, UnifyID, LoginRadius, Clearlogin, and, of course, Google. So, let's look at some of them in detail.
Okta Identity and Access Management
As a 2022 market leader, Okta offers a proven solution for adaptive credentials management for SaaS platforms on multiple devices. Freeing employees from manual access control management, such as password resets, Okta helps them to focus on more effective activities to boost company growth.
Fit for the cloud-first infrastructure, Okta IAM enables digital businesses to optimize their expenses by providing a complete identity solution for all apps of the organization. Being an independent platform, Okta has over 7,000 integrations in the Okta Integration Network and Auth0 Marketplace for the clients' convenience. As of May 2021, Okta purchased Auth0 but they continue to work as separate businesses.
Features and capabilities:
IAM as a framework, or a structure with policies and services;
Flexible and adaptive IAM that determines what access is safe to provide to a person;
Unified Customer Identity Cloud to authorize and authenticate users in SaaS apps;
Workforce ID Cloud to distribute privileged controls;
Thousands of integrations;
Recommended by Gartner® 'Voice of the Customer' report.
Auth0 Identity and Access Management
Fine grained Auth0 authorization is aimed at making login boxes as simple as possible, but finding the balance between safety and convenience. It makes multi-factor authorization easy and mainly targeted at CIAM (Customer ID) solutions.
Implementation of this platform is fast and adaptable – generally, it offers a slick, well-designed UX for users to enter their credentials. Mentioned in the Gartner Magic Quadrant for Access Management report as of November 2022, this solution is strong and robust, with most use cases in Retail, Financial Services, Publishing, B2B SaaS, Travel, and Healthcare.
Features and capabilities:
Progressive profiling for user access;
Step-up authorization for transactions;
Universal login, including SSO, directory, and social integrations;
In addition to standard registration capabilities, the tool offers bot detection and options to register anonymous users.
PingIdentity Identity and Access Management
Unlike the other platforms in the list, Ping identity and access management tool emphasizes user protection and their digital interactions and experiences. Claiming to have 99,99% uptime and 3+ billion identities managed, the solution has the capability to connect any user to anything using native Ping's identity solutions or other third-party services.
According to the Gartner Magic Quadrant for Access Management report, Ping Identity has been included in the list of market leaders in SSO, authentication, and access management for 5 years in a row.
Features and capabilities:
PingOne Cloud Platform offers a whole set of cloud identity and access management services;
Flexible payments only for capabilities that you want;
Ability to integrate with hybrid IT environments;
Real-time fraud detection for both mobile and web channels;
Risk management to track threats and react quickly;
Identity verification, SSO, and multi-factor authentication to provide simple access to apps.
ForgeRock Identity and Access Management
ForgeRock identity and access management is designed for simplicity and ease of access in the cloud. The enterprise-ready platform easily manages and governs all identities at the Internet scale in a secure way. Based on advanced cloud architecture and artificial intelligence, the platform is focused on customer satisfaction. With its own experts in IAM, the company can evaluate and implement the most unique needs of the market, meeting specific requirements for clients' businesses.
Features and capabilities:
ForgeRock solutions support all types of IDs;
Low-code or no-code UI implementation possible;
Easy migration from other IAM solutions;
Mentioned in Gartner Magic Quadrant for Access Management 2022;
Both consumer and workforce access management;
Customers can connect SSO and biometrics, analytics and behavioral authentication;
Possible authorization via passwordless and usernameless logins.
AWS Identity and Access Management
AWS identity and access management helps you manage user identities within AWS services and resources and set fine-tuned access controls for the employees and for all solution pipelines. You can also manage IDs through a single AWS account or connect user identities to multiple AWS accounts in a centralized way.
In AWS IAM, you can also create temporary security passwords and usernames to workflows that use your AWS resources. Besides, you have the ability to continually track permissions and user privileges according to their scale.
Features and capabilities:
Access control based on user attributes which can be very specific;
You can connect multiple accounts with various access and application rules;
Policies to control AWS services and build access limits for company's employees or clients across multiple accounts;
Automated permissions management makes it possible to roll out and shift single or bulk user policies according to privileges;
Convenient in development if you're already an AWS client.
IBM Identity and Access Management
Identity and access management of the IBM corporation is focused not only on security, but also on regulatory compliance. IAM experts of their customers can make a choice whether they want to create and manage their project in a hybrid cloud environment by themselves or seek assistance from IBM specialists who can build services for multiple aspects of the workforce.
On top of the access and identity management system, IBM offers IAM strategy and assessment services, separate Cloud IAM services, and Consumer IAM services with building projects on-demand. The full IBM services list also includes privileged access management services, managed identity services, identity governance and administration services, and identity and access management design and deployment services.
Features and capabilities:
IBM announces their IAM solution to be AI-powered;
For clients, there's IBM Security connected which means automated account access control;
Cloud-based ID governance for consumer and workforce, but with a focus on consumer IAM;
Zero trust framework delivery;
Multi-tenant SaaS capabilities, and you can also use single-tenant Dedicated Cloud;
Smooth migration options with an on-prem version;
Able to provide turnkey solution.
CyberArk Identity and Access Management
CyberArk's single Identity Security platform encompasses smart privilege controls for users and devices. Gartner also notes this company as one of the IAM market leaders in 2022 for providing security identities across organizations' infrastructure. The solution fits hybrid, SaaS or multi-cloud environments and helps prevent unauthorized attacks and malicious actors. Its strongest features are streamlining operations and giving users simple, secure access from anywhere and any devices.
Features and capabilities:
Intelligent privilege controls according to user needs for resources, endpoints, or data access;
Adaptable identity automation & orchestration in distributing ID permissions;
Unified audit for platform activity;
Protecting critical business data by Zero Trust and least privilege policies.
Salesforce Identity and Access Management
Despite not being included in top IAM vendors 2022 by Gartner, Salesforce certainly has something to say in the Identity and Access Management field, being one of the top world CRM systems. At the moment, the company offers official certification to experts who want to advance in Salesforce IAM and become architects in the Salesforce system.
The Salesforce identity and access management tool manages users directly via the client's UI. As customers authenticate across the organizations, Salesforce IAM then makes sure the users are who they pretend to be via ID and authorization control.
As for the users of this system, they are mostly company employees, customers, and partners of the company. Salesforce identity management and access control is included in every Salesforce paid license.
Features and capabilities:
Easy sign-in experience for Salesforce users, including login via social media;
SSO for all client's cloud, mobile, and on-premises apps, including CRM and marketing applications;
Synchronization of directories through delegated authentication, SSO, etc;
Secure two-factor authentication across all companies for all Salesforce apps and data.
Microsoft Identity and Access Management
As one of the leaders in the Gartner Identity and Access Management Magic Quadrant 2022, Microsoft focuses on efficiency and comprehensive security. Adaptive access to resources and access policies go hand in hand with fast authentication experience, reducing times for password management, and capability to manage all user identities via cloud or on-premises.
Another feature offered by Microsoft Azure identity and access management is automated identity governance to lock out restricted users from the system and share resources only with authorized users or user groups.
Features and capabilities:
Protected, adaptive access to services, resources, and data via authentication;
Increasing user productivity by saving time managing passwords;/li>
Microsoft Cloud centralized location to manage all IDs of the organization;
Microsoft Security and Microsoft Entra Permissions Management for providing granular access to apps in cloud and hybrid environments;
Monitoring permission risks in all the infrastructure with a CIEM (Cloud infrastructure entitlement management) solutions;
Controlling workloads via Workload Identities and Identity Governance;
Tailored consumer IAM solutions for clients with the Azure Active Directory Premium.
Google Identity and Access Management
Google IAM is available free of charge to all Google Cloud customers to make it easier for Google clients to track and implement compliance processes, and audit user activity. It supports creating IAM policies that open access of certain Cloud IDs to Google groups, accounts, domains, or specific Admin consoles.
Features and capabilities:
Gcloud command line tool support;
New roles available: Publisher, Subscriber, Owner, Editor, Viewer;
Flexible access to Google resources via contextual attributes such as IP address, resource type, device security status, and date/time;
Provides smart access control recommendations; can automatically detect and provide insights on unwanted permissive access;
Audit trail out-of-the-box;
Adaptive user privilege management based on workgroups.
Oracle Identity and Access Management
Mentioning secure access to enterprise applications above all, Oracle Identity and Access Management Suite works for cloud, as well as for on-prem deployments. Clients of Oracle can choose whether to use Oracle IAM as a cloud native identity as a service (IDaaS), a software-delivered enterprise deployment, cloud native identity governance and administration, or roll it out in a hybrid environment with several projects.
Another benefit for Oracle's partners is that Oracle's Identity solutions integrate with Cloud infrastructure and applications. One more interesting feature is Oracle Access Governance that can run and access periodical reviews.
Features and capabilities:
An integral part of Oracle Cloud Infrastructure, Identity and Access Management enables quick new users onboarding;
Can use business logic from third-party integrations to identify risks;
Capability to provide scaling according to the client's needs;
You can roll it out on-prem or in multi-cloud environment;
Open APIs to integrate Identity Management to your custom applications;
Advanced and flexible authentication services and ID governance capabilities with analytics provided by Oracle;
Access Governance, Access Management (with SSO), Identity Governance, and Directory Services as a part of integral ID solutions for any enterprise;
Can include storage, synchronization, and virtualization, as well as proxy;
Standard installation compatible with a big range of hardware.
OneLogin Identity and Access Management
Securing flexible access to resources for employees, contractors, and partners, OneLogin by OneIdentity centralizes ID management for the range of apps, devices, and directories. On top of standard SSO and multi-factor authentication, OneLogin also provides context-aware security and passwordless authentication capabilities.
Features and capabilities:
Fast authenticating user IDs via flexible IAM cloud identity tools;
Solving authorization challenges by assigning user privileges according to roles;
Capability to set up specialized user access to company's tools;
Various user provisioning levels (editor, viewer, administrator) allow organizations' departments to assign each individual's access to resources;
MFA (Multi-factor Authentication) and adaptive user authentication;
You can generate reports for user actions to get insights about the security risks.
iamcore Identity and Access Management
One of the emerging solutions, iamcore automates user authorization and authentication processes, while simultaneously saving resources and team efforts. This solution is a match for startups that want to focus on business value but without compromising security, usability, and performance.
iamcore is positioned as a fast-start authorization service with intuitive integration options. The solution offers flexible deployment and configuration that simplifies the whole SaaS development process and makes it more scalable. Applying new security rules is very fast for tens of thousands of entities, as well as provisioning and deprovisioning users throughout all cloud apps of the client.
iamcore can also easily manage simple tasks such as bulk assigning new parameters to specific groups of users, re-establishing new groups, or updating user policies in bulk. Admins can assign resources or devices by folders, implement modifications of settings, or deny users from a certain group to upload or download files to particular devices or directories.
Features and capabilities:
Access authorization system across multiple enterprise apps;
Saving time on authorization functionality in SaaS product development;
Providing fast user ID permission management via applying preset user policies;
RBAC, ABAC, ReBAC, multi-tenancy, and cross-tenant resource sharing;
Permissions and access audit, policy debugging, and wildcard matching for principals, resources, and actions;
Providing open APIs and open source SDKs for all mainstream languages.
LoginRadius Identity and Access Management
The IAM solution from LoginRadius is specialized in CIAM (Customer identity and access management), and is focused on customers' digital ID provisioning. Providing extensive APIs, LoginRadius makes it possible to deploy their IAM solution within short time periods from 3-4 weeks. The platform had 100% uptime in the last 28 months and supports peak load of 240,000 login requests per second.
Features and capabilities:
No-code solution to make the digital ID management simple and cost-effective;
You can deploy it in 3 ways: Private Cloud (Self-hosted), Private Cloud (Managed), and Multi-tenant Cloud;
Possible to scale to 100M+ users, over 40 data centers worldwide;
Cloud-native and flexible.
Choosing identity and access management vendors: What to look for?
It's recommended that the identity and access management system you're choosing in 2023 would guarantee to solve challenges listed below.
Save IT budgets and resources of in-house developers and engineers.
With thousands of users, manual user policies setup and assigning user privileges can be a headache. User-to user access rights can be changed constantly, as modern organizations can hire new team members often while opening new branches or vice versa, dismiss employees to optimize department performance.
Perform IAM system updates in a continuous manner to reflect real-time changes.
It isn't enough for modern enterprises just to schedule the update and wait until it's rolled out into production. Sometimes user access issues need to be solved urgently in a matter of minutes. Constant identity management and access control is key to enterprise data security, and IAM automation is the sure way to achieve it.
Provide quick access to resources whenever users need it.
It includes handling of the processes with sensitive business data. In some cases, changes in the system must be visible immediately to system administrators and DevOps engineers, to learn what resources are used and where. In this way, user administration workflows can be reduced to a minimum via automating process stages.
Automate multiple workflows and pipelines for numerous apps within one environment.
Top-notch identity management solutions include, aside from seamless password and access management, prompts to input fields, automatic password generation, and preset templates for user group policies with the ability to implement them in one click.
Cancel the need for waiting lines and long processes in user management, with proper timing of user access approvals or revoking.
One of possible benefits of the identity and access management solutions (IAM) automation is that, regardless whether companies adopt different solutions, they still can unite all their resources in one cloud.
Eliminate security threats which have flourished with remote work popularity.
Working on their own devices, employees face multiple security threats. On top of eliminating redundant work, IAM automation allows companies to provide timely and failure proof user authentication and validation, with access distribution according to the user status in the system, as well as track down possible issues with user privileges and fix them early.
To sum up, great identity and access management solutions not only cover the organization's need for quick, secure, and centralized control of client and workforce IDs, but are also scalable and adaptive. Typical mistakes for mid-market and small businesses include choosing bulky, complex user ID management systems which require a lot of resources to maintain and develop. More lean, low-code solutions are worthy to be explored in these market segments.