Back to Blog
What is IoT and Should Your Company Be on Board?
From the practical business perspective, IoT - or the Internet of Things - is a set of modern technology that enables companies to connect and manage their devices remotely via the Internet. This technology also empowers consumers with new convenient features for a broad array of products, such as remote control of consumer tech via a smartphone or data collection from various sensors in real time. Some key parts of the IoT technology stack are cloud infrastructure, connectivity protocols, IoT platforms for device and data management, and actual hardware that can be connected to the Internet.
On the global scale, the Internet of Things is often used to refer to the entire population of smart connected devices, the ones that you can control from your browser or smartphone. According to Statista, there are as many as 30 billion connected devices out there as for 2020 and their number will double by 2024. These devices include complex industrial systems that collect data from thousands of sensors as well as fancy electronic gizmos intended for personal use.
However, while using global network connectivity for device operation, the Internet of Things is not like the Internet in so many ways. It may be misleading to think of it as a network of devices similar to how the Internet is a network of websites. It is rather a family of protected digital device clouds that use the Internet to enable users to easily access and manage their devices. Therefore, understanding the cloud technology will be the first step to help you answer that "what is IoT?" question.
How cloud computing enables IoT
Cloud computing has become a key enabler for large-scale digital transformation of the last decade. This technology has brought the convenience of accessing your applications and data from anywhere via the Internet. Now all the software that you use on a daily basis may sit somewhere on remote servers, i.e. cloud, and all you need is a web browser or a mobile app to work with it. You're no longer tied to your desktop as a user and, as a company, you don't have to install everything on premises in your datacenter or even have one. In fact, we're now so used to modern cloud apps that it baffles us sometimes how we managed without them in the pre-cloud days.
Thanks to cloud computing, we've eventually come to connect not only our smartphones but numerous other devices to exchange data online. Fitness trackers, energy meters, different types of sensors, security cameras have all got connected and managed via cloud-based applications. Of course, alongside cloud computing, it was also rapid development of M2M (machine-to-machine), connectivity protocols, and Big Data analytics that predawned the Internet of Things era. But it was the cloud-based architecture that connected all the pieces of the IoT puzzle together - users, applications, devices, and data.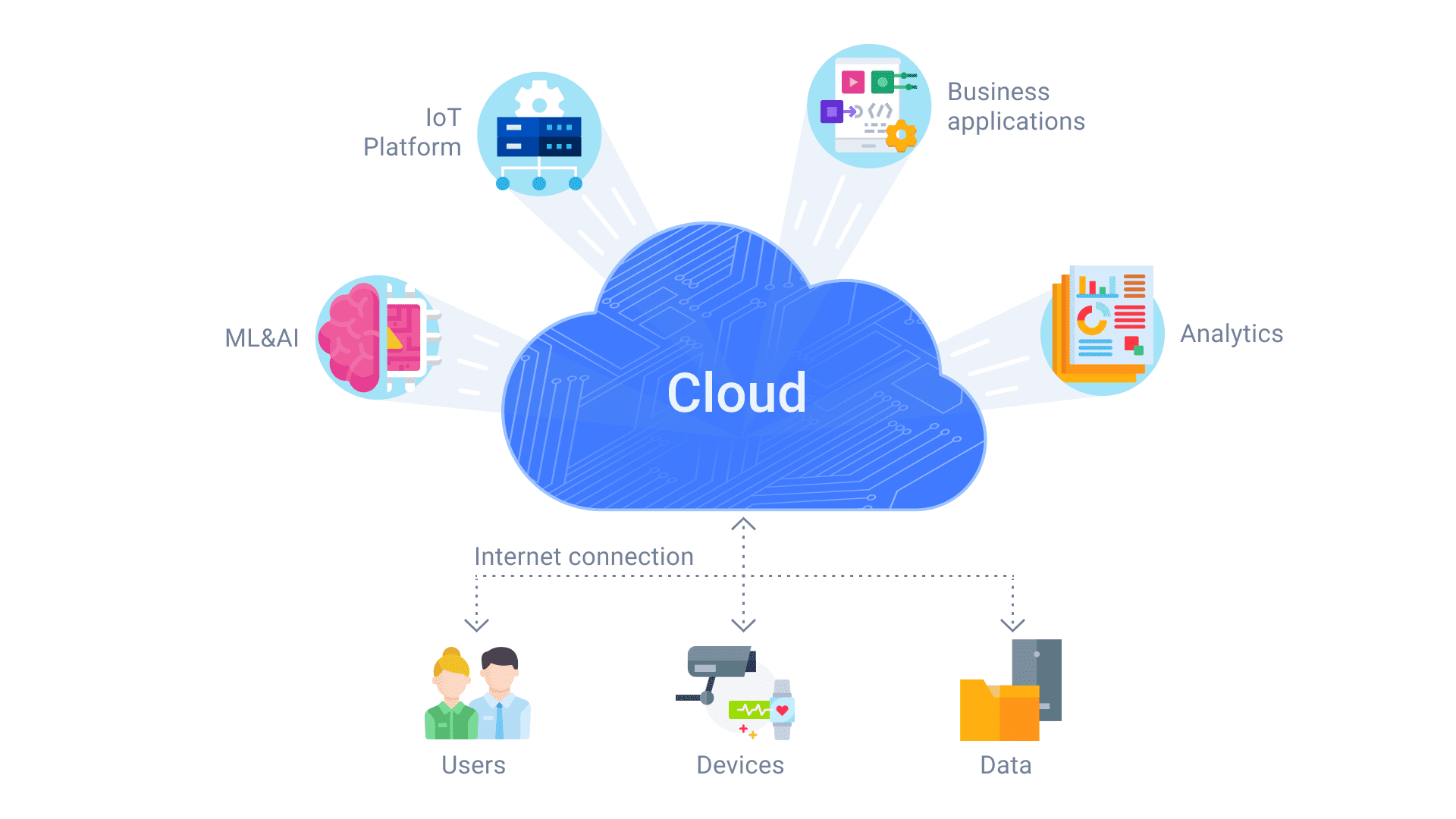 That said, there are several ways that companies can optimize their IoT initiatives by carefully planning and adjusting their cloud strategies.
First, cloud-based IoT solutions allow you to get started very fast and with minimal upfront investment. You don't need to worry about initial setup and ongoing maintenance as it's all get settled by your solution provider. Cloud-based applications (also, commonly referred to as SaaS - software as a service) are usually easy to try out without investing much time or money. A good example of such an option could be the Kaa Cloud - it offers a free unlimited trial of the Kaa platform in the cloud for up to 5 devices. Use a simple cloud solution to check features and capabilities and then see if you need an upgrade.
Second, for many companies a standard cloud-based IoT solution will be all they need for their business. If you don't have any third-party software that you need to integrate or any other need for direct access to the cloud infrastructure, you'll be perfectly happy with an online turnkey IoT system like that. However, you might want to take a closer look at the pricing plans. While cloud-based solutions are usually much more cost-efficient when it comes to managing tens or even hundreds of devices, it may lose on cost to self-hosted solutions when we are talking thousands of endpoints.
Third, some companies will need to consider a more advanced option - a dedicated cloud environment for their IoT solution. This is helpful when you need access to the cloud infrastructure to perform various customizations and integrations. So, if this may be the case from the beginning or in the future, make sure your IoT solution provider can support such an option.
Finally, the already mentioned self-hosted option - that is when you host your IoT solution on your chosen infrastructure - is the upgrade you may want for two reasons. One is full control over the infrastructure, performance, security, etc. And another is cost savings with a growing number of devices depending on the solution provider's pricing.
To sum up, get started with a simple cloud option to test your solution and then consider your upgrade roadmap for the optimal total cost of ownership in the future.
What is an IoT solution vs an IoT platform?
While cloud is an essential technology for hosting and managing your IoT infrastructure, it is one more key tool that brings your IoT solution into operation. And that is an IoT platform. This technology offers a graphical user interface and a set of features that streamline connecting and managing your devices via the cloud. Such features include device and user authorization, customizable dashboards, integrated data analytics, alerts and notifications, application management tools, and others. Basically, you can use an IoT platform to create multiple IoT solutions for your smart devices.
As something more specific compared to an IoT platform, an IoT solution is usually what you do with your connected devices. It can be a smart home solution if you connect your household appliances or a smart farming solution if you connect irrigation devices, temperature sensors, or smart monitoring labels for livestock. At the same time, an IoT platform and an IoT solution can be used interchangeably if we simply refer to the capability to connect and manage devices of different types and purposes via the cloud.
Business benefits of IoT
As we have gone into enough detail on "what is IoT?" question, let's see now whether you should be sharing any excitement over this technology. It surely depends on your line of business and your market if you could snatch any immediate opportunity with IoT, but here are five benefits that you should definitely be aware of.
IoT is one of the key global drivers for digital transformation across the entire economy today. This technology is widely seen as a springboard to a modern digital enterprise, especially for companies with physical assets and product companies. Companies use it to optimize their operations through better asset utilization, predictive maintenance, and automation as well as add exciting digital features into their products.
IoT is becoming a vital expertise for companies to acquire in order to expand their footprint on the marketplace. It is not merely a tool or an application to use for routine tasks. Many companies from traditional industries who embraced this new technology as their core expertise went beyond their standard business models. They've come to offer digital services on top of their devices, be it simple remote troubleshooting or real-time user dashboards or value-added cloud analytics or multi-service digital plans.
IoT unlocks new data sources to allow companies to derive better insights into their business with the help of modern data analytics tools. IoT has multiplied the value of analytics for organizations by enabling them to track and analyze their device data. This in turn encourages companies to learn how to better use the potential of modern analytics and implement the data-driven approach in day-to-day decision making.
IoT is great for personalized customer and user experiences. Personalization is a crucial value-adding factor for customers in many industries, such as retail, consumer electronics, automotive, or telecom. Smart devices powered by the IoT technology offer great flexibility to ensure such personalization by, for one thing, supporting remote configuration and firmware updates. Even more important, IoT applications that work in pair with your devices can be the biggest competitive advantage of your product. Also, you can use such applications to remotely gather user data to understand their pain points and continuously improve their experience.
IoT has the wow effect. Modern smart devices have glitz and glamour that can inspire customers. Sometimes they may be gimmicky and sometimes they are really cool pieces of technology. In any case, IoT helps your products stand out among competition and make an impression on a picky customer.
Where does one start with IoT?
You've probably been already using the IoT technology, even without knowing it. There are lots of smart devices out there that have it under the hood. Now how about going more advanced and start tracking and analyzing those smart devices to optimize your business operations? That's easier than it sounds with modern IoT platforms, like Kaa. Check out our free Kaa Cloud trial option and see how you can go from adding a device to seeing its real-time data to setting up alerting rules in a matter of minutes.