Back to Blog
All about IoT devices: technology, applications, and trends
IoT devices are hardware devices such as sensors, appliances, and gadgets capable of connecting to the Internet and transmitting data to other systems, applications, or devices. When connected to a cloud-based device management platform like Kaa, IoT devices can be integrated into complex end-to-end IoT solutions. Common examples include smart homes, industrial automation, intelligent cars, smart farming sensor networks, supply chain management, etc.
IoT technology stack
Smart connected IoT devices are only one component of the visible IoT technology stack. Additionally there are a number of data processing and other functions running on different layers of IoT technology inside and outside the device itself.
These device, data, and user management functions are typically executed in the cloud by an IoT platform like Kaa.
The primary functions of an IoT platform are:
ensure secure communication between connected devices,
manage and authenticate user identities and permissions,
collect data and send remote commands via secure connectivity protocols,
provide a graphical user interface and dashboards,
perform data analysis and visualization,
manage device software versions and applications.
While it is possible to connect your IoT devices directly to a mobile application or online dashboard, using an IoT platform provides a number of advantages. Among these are a complete feature set for device management, flexible customization capabilities, and built-in data analytics.
Some IoT devices are also responsible for collecting data from standalone sensors and devices that can only communicate over wireless local-area protocols, such as Bluetooth or ZigBee. These IoT devices are known as IoT gateways in the cases where they only retransmit data and commands between connected endpoints and an IoT platform.
In some instances IoT gateways perform a portion of device analytics, generate insights, and execute autonomous actions. They are referred to as intelligent edge devices.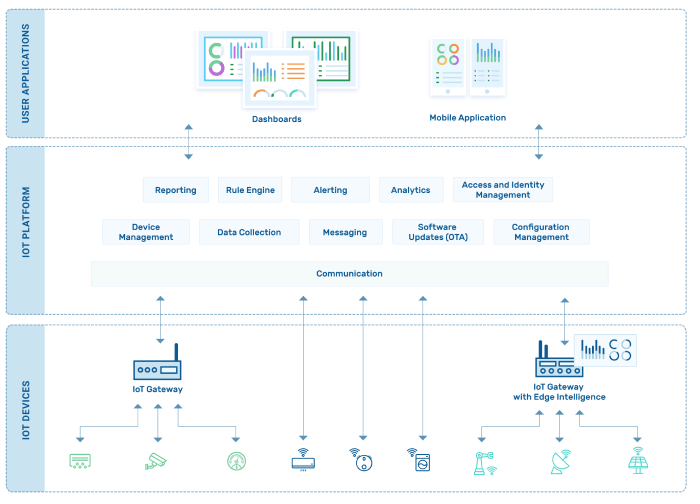 IoT Device Management in Kaa
Although smart IoT devices can perform amazing tasks on their own, their capabilities are greatly enhanced when coupled with an IoT platform. With an IoT platform users gain advanced functionality like remote control, granular device management, creating rule-based workflows and performing device data analytics.
With Kaa IoT device vendors and manufacturers will gain the following capabilities:
Easily introduce and connect new products to the cloud

Using standard IoT protocols and device authorization methods provided by the Kaa IoT platform, device vendors can connect new products to the cloud in a few simple steps. Kaa also supports grouping different products within a single IoT solution.

End-to-end device data security

Kaa offers Enterprise level support for secure IoT connectivity with data encryption, device credentials management, and user access management. Kaa ensures maximum data protection for each iteration of the device data lifecycle.

Track device KPIs, service logs, and health data

Instead of building dashboards from scratch, you can take advantage of Kaa's rich graphical UI toolbox to add your own functionality if necessary (Kaa allows that based on the microservice architecture).

Enable users with remote device monitoring, control, and management functions

You can configure out-of-the-box UI components of Kaa to create a personalized device management solution for your customers, which they can access via a smartphone app or inside their browser.

Perform remote device monitoring, control, and management

With Kaa's powerful UI toolkit you can create a personalized device management solution for your customers, which is accessible via a smartphone app or via web browser.

Analyze device data, user behavior, and new features

Kaa includes a powerful data analytics engine that can reveal valuable information about a device, such as performance analysis, user engagement statistics, most popular device features, performance metrics of the latest firmware updates, etc.

IoT device lifecycle management, innovate faster

Managing multiple IoT devices, solutions, software versions that are deployed over several regions and markets becomes increasingly difficult without a unified device management platform. Kaa offers a strong foundation for end-to-end IoT device lifecycle management that promotes faster innovations, reduces cost and inefficiencies, and boosts in-house expertise.
For more information on choosing an IoT platform for your business, please refer to our IoT platform selection guide or contact us to schedule a demo with our product specialists.
Creating a successful IoT device / product
Taking into account that IoT is more about end-to-end use cases than single-purpose smart devices, a successful IoT device is one that makes for an excellent IoT solution. In other words, the device itself is just a tip of the iceberg. A simple smart meter can be hundreds of times more useful if it includes a smart metering dashboard, mobile app, analytics, and flexible connectivity options.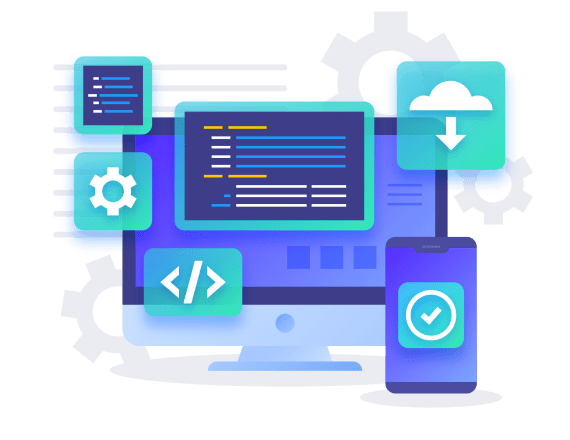 In IoT, the line between a physical device, its software package, and integrated cloud services is blurred to such a degree that traditional device vendors are now embracing IoT, Big Data, and cloud assets as their core expertise.
For this reason, a go-to-market roadmap for an IoT platform may include a fair number of steps and activities:
Understanding common user scenarios
Understanding potential device integrations and extensions
Understanding potential cloud service integrations
Hardware design & development
Embedded software development
Choosing the right IoT platform
Building an IoT solution for the device
Setting up device and user analytics
Exploring partnership opportunities via third-party integrations
Provisioning ongoing product updates, and new software releases
Expanding an IoT device ecosystem with new products to address more complex use cases
You can also take a deeper dive into IoT analytics and its role in IoT product development in our our business guide to IoT data analytics.
Cases & Applications for Modern IoT device
Today IoT devices are widely used in practically every line of business and consumer electronics domain. According to the recent IoT report from Statista, the number of Internet of Things (IoT) devices worldwide will almost triple from 8.74 billion in 2020 to more than 25.4 billion IoT devices in 2030.
Some of the leading industries for IoT adoption are provided in our recent IoT trends infographics. Here are some examples of popular IoT meta-applications across these and other industries:
Predictive maintenance
Sensor networks
Asset management
Fault management
Remote control
Remote monitoring and troubleshooting
Smart alerts
Predictive analytics
Delivery and fleet tracking
Device automation
Smart metering
Smart lighting
To get a better understanding of how it all works we invite you to explore the Kaa Cloud feature set by registering for a no strings attached demo account. You will have complete access to all of Kaa's features allowing you to create device dashboards, visualize data, and manage analytics. Your demo account will allow you to connect up to 5 devices or use the included IoT device simulator. Have fun!